Bowfishing Info: The Basics
Are you curious about how to how to bow fish? If so, you're part of a growing trend of outdoor enthusiasts who are trying it. The most common types of fish for bowfishing are drum, carp, rough, and invasive fish. Here is bowfishing for beginners.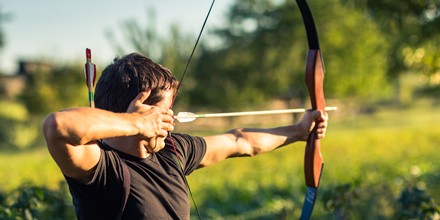 The ideal bow has a smooth, silky draw and is less heavy than a regular hunting bow. The most you'll want for the bow's weight when you learn how to bow fish is 30 pounds. The only exceptions would be if you're going into the deeper water and want to catch bigger fish. Top brands include Muzzy Addict, Cajun Sucker Punch, Mission Craze, and Mission Menace. Unlike with hunting, you get closer to the fish when you bowfish; usually, you are 3-15 yards from them.
Bowfishing for Beginners: About the Reels
When first learning how to bow fish, a bottle-style reel is likely the easiest because it is mistake-free. There aren't buttons or other contraptions to get in the way and mess you up. Just draw and shoot. The downside though is that you have to put down the bow to pick up the fish, unlike with a spinner. The spinner reel, though, requires using a button or switch.
How to Bow Fish: Arrows and Points
It is essential to get the right bowfishing arrows and points to get the catch. Don't use a hunting bow as it won't work and it's dangerous. You need ones that are tough enough to endure the thrashing around of fish when the arrow and point goes into it. There are several options, from fiberglass shafts (the least expensive) to carbon arrows and aluminum jacketed fiberglass varieties.
A fiberglass bowfishing arrow with safety slide is probably all you're need when learning how to bow fish. For points, 2-barb and 3-barb options are most popular. You'll also want to invest in a quality arrow reset so that you can quickly place your arrow in the right shot.