When you walk into a sporting goods store or outdoor store, the number of fishing lures (artificial bait) available can be exciting but overwhelming. Here are tips on how to choose the right lure, whether you are saltwater fishing or out in freshwater.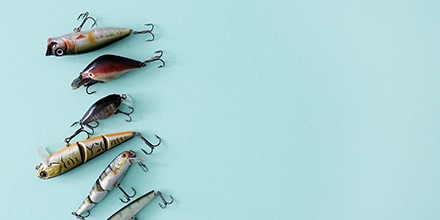 It all depends on what type of fish you're looking to bring in. This decision will help you decide what type of lure to use and size it accordingly. Generally, size the fishing lures the same as the real prey that the fish you want to catch feeds on.
What is the Water Temperature?
Also, think about the water temperature. You'll want a lure that matches cold water, such as shaky heads. This is different than warmer water lures like spinnerbaits and crankbait.
If you're using a soft plastic bait, generally you want it to be the same color as the lake's bottom. Look to see if there's mud at the bottom; if so, then choose a brown or black lure. For a sandy bottom, a lighter shade would be better suited. Green fishing lures are usually a good default choice.
Now you have to put everything together. How to choose the right lure involves many considerations, from its size to color. Once you find the right fishing lures, you can then experiment to see how to use it.
In other words, does the type of fish you want like a slow-moving bait or a faster one? If you choose plugs, they are made to float on the water surface, making them ideal for "diving." Plastics are another type of surface bait; they can look like lizards, worms or even injured fish. If you use jigs, generally 1/8 ounce of weight is perfect for every 10 feet of water.
In time, your technique will be great. Picking fishing lures doesn't have to be difficult.