One of the Best Tours in Miami: Deep Sea Fishing
Take the Best Tour in Miami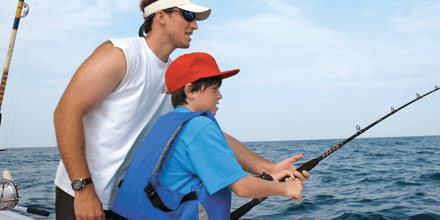 Join Miami's best fishing tour company and enter into a world full of offshore adventure and surprise.  We here in Miami are lucky to be located between two very important bodies of water, the Gulf and the Atlantic Ocean.  The Gulf Stream flows from the Gulf of Mexico, between Key West and Cuba, and heads North ending at the northern most part of the Atlantic Ocean.  This is a huge feeding supply is like a major artery which bring nutrient rich warm water north carrying large migrations of fish like Dolphin (Mahi-mahi), Marlin, Tuna, Wahoo, just to name a few.  Thanks to this natural occurring current, our South Florida waters are teeming with wildlife.  Tourist and natives alike are drawn to the natural abundance of sea life and spectacular soft sand beaches which cover nearly every inch of our state.
If you are looking to spend a few hours on the deck of a rugged and well-equipped sport fishing boat, we can make that happen.  Whether it's just you, 2 of you or even a party of 12, 15, or 25, we can arrange a spectacular sport fishing trip to your liking.  For the budget conscious customer, we also offer split party charters where you can share the cost of a trip with another party at a fraction of the cost of a regular charter.  It's a win-win all around! All ages and experiences are welcomed, and no it is not necessary to know how to fish.
Thanks to our years of experience, our trained crews will guide you and your guests through every aspect of the type of fishing selected. They will instruct you on what to do and when to do it, all the while you get to experience the exhilarating rush of landing the trophy fish of your dreams. Anything is possible off the waters of Miami, and our crew will make sure to put you in the middle of all the action, every time.
Because Miami is located in a sub-tropical state, we do have our daily showers and thunderstorm. They normally do not last more than 10 or 15 minutes and make for a refreshing change to an otherwise hot and humid offshore day.  Sure, we do have seasons where the seas are little rougher than normal, which tends to be during the late fall and winter months when we get very strong and cold northern winds which also bring in large swells.  For the experienced fisherman, they know that rougher seas mean great sport fishing, but for the novice or motion sickness prone fisherman, we recommend choosing a warm spring or summer day instead. Should you find yourself in Miami looking for a tour on a blustery day, we can accommodate you on an inshore fishing excursion where you never leave the safe enclosures of our bays and waterways.
Our bays and waterways in South Florida are breading grounds for thousands of different species and there is no better place to hone your skills than here.  Our bridges are loaded with resident Snook, Tarpon, Snappers, Barracudas, Permit, and so much more! So let's go guys…pick up the phone and give us a call, your next and best Miami fishing experience is waiting for you.