Tips for Surf Fishing Florida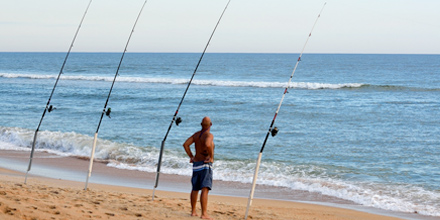 If you are planning a vacation, consider surf fishing in Florida. This is a fun beach activity that involves fishing while wading in the surf or on the shoreline. Florida, also known as the sunshine state is a popular destination for surf fishing. The beaches are known for their warm waters and miles of golden sand. The water is crystal clear with abundant inshore fish such as pompano, snook, snapper, bluefish, ladyfish, redfish and sharks. Most public beaches allow fishing from the shore unless crowded with swimmers.
The weather and tide play an important role in surf fishing Florida:
Ideal months for the catch
The ideal time for surf fishing in Florida is during the warmer months, March till November. However, you may be able to fish throughout the year if the winter is warmer.
The best time to bait the fish is before dawn or at dusk as they come to search for food along the shorelines. At some beaches, you may be able to find fish throughout the day.
Watch the Flow of Currents
Another popular time to fish is when the tide is rising or falling. Fish can be trapped in the trenches between reefs and sand bars making it an easy catch.
When you go out to the beach, choose a spot that is clear of swimmers. Wear sunscreen, a hat and beach sandals or shoes to protect your feet from coral, shell or rocks. You can carry your fishing gear on a beach cart or fishing cart. You will need the following items:
Umbrella & chairs
Cooler with ice & water
5-gallon bucket
Bait bucket
Bait knife
Small cutting board
Sand spikes
Cast net
Sand flea rake
Camera
Garbage bags
Equipment for Surf Fishing Florida
When fishing from the shore you need a long rod and a reel to bait out the fish. You can choose an all purpose rod or many specialized rods, depending on your budget or frequency of each fishing situation. Rods designed specifically for long casting into the surf are 10 foot long and above. However, you can also choose an 8 foot rod of medium weight. Most anglers prefer spinning reels because they are easy to use and don't have the learning curve of casting reels. Get a high quality reel that matches the line size you intend to use. Monofilament finishing lines are used by most surf anglers use because they are thin and strong. There are bait shops near beaches where you can purchase different baits for different fish. The most common baits are mullet, sand fleas, shrimp and squid.