Best Saltwater Fishing Spots in Florida
There are several great South Florida fishing spots for beginners and more advanced saltwater fishermen. Here are some of the best ones: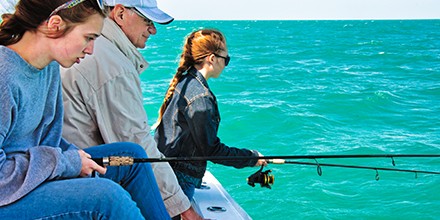 This island in Miami-Dade County has awesome South Florida fishing spots if you know where to look. Head to the south end and make your way back north to Bear Cut, stopping at artificial reefs. They're anywhere from 80-200 feet deep.
There's good bottom fishing to be had here, from grouper to amberjack and even spinner sharks. If surface lines are more your thing, you'll have bonito, mahi-mahi, sailfish, and kingfish as your choices.
There are a seven-mile bridge reef and barge you ought to know about as it is one of the top South Florida fishing spots. We're talking about the Bridge Rubble in the Marathon area. You'll find it west of Sombrero Light.
Just stop at an outdoor shop in Marathon, FL, and they'll be able to give you directions there. As for what you can look forward to catching, it'll include grouper and crevalle jack, as well as amberjack and yellowtail.
Ah yes, last but not least on our list of the top South Florida fishing spots is Government Cut. Tarpon abounds in wintertime. There are three areas from which to choose. There's north of the north jetty, up to 18th Street on Miami Beach. Going south, another area is to Fisher Island. The third place to fish is the main channel from the ferry boat.
There are several varieties in the waters of Government Cut, aside from tarpon. There is also grouper, yellowtail snapper, cobia, and barracuda, amongst others.
With so many amazing South Florida fishing spots, it's no wonder that it's one of the most popular sporting activities there, aside from golf. Plus, the weather is warm all year, so fishing is doable every month!