If you are looking for tips on how to fish for squid, you have come to the right place. Here is advice for serious anglers on how to catch adult squid.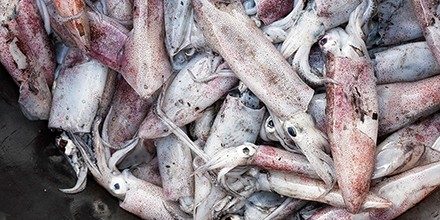 The gear you use matters. There are specialist squid rods that can vary from 7.5' in length to 9'. They are lightweight but delicate, thanks to the graphite material. Look for low-profile guides, which are less likely to spiral the line as it rolls off the spool. The result is less extra line, and you can cast into the wind easier.
For the reel, choose a small spinning one with a low-capacity spool. A braided line of 150m is perfect. For the mainline, braided is better than fused, and there are even special brands made for squid anglers.
Knowing how to fish for squid efficiently involves using the right lure. There are lures specifically for catching squid, which come in several colors, sizes, and prices. As with the adage, you get what you pay for, so invest in a better brand. A natural baitfish shade is a safe choice too.
Regarding what weight to use, choose one between 2.5 and 3.5 pounds. Usually, these weights enable your lure to sink gradually down to the sea bottom.
Egging is one of the best techniques for anyone who wants to know how to fish for squid. The method involves attaching a squid jig to one end of a light fluorocarbon leader before casting out the lure and letting it sink to the depth of the water where the squid is likely to be found.
The key to this method's success is to use different lure sink times and whip the rod to keep it in the ideal zone. For beginners, it takes practice but be patient. Using high-quality equipment helps, of course.
Another option is to use multiple lures, up to four maximum. Putting different lures of different colors and sizes together on the line can help you test which type is most attractive for the squid in that area of the water, at that time of the night.